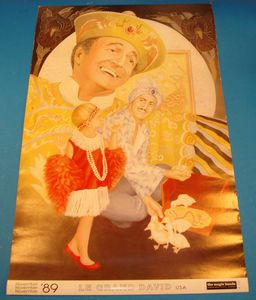 Original Vintage Magic Hands Le Grand David Magic Poster
 (1989)
In Collection


#1385
10*
Magic
Magic Poster
Poster 
USA 
eng
Original Vintage Le Grand David Magic Poster

Original Vintage Le Grand David Magic Poster-Black Background-David,Marco,Seth ca. 80s

This is a Le Grand David Color Poster put out in November of 1989, by The Magic Hands studio in Germany, owned by Manfred Thumm. Image is of Marco on top, David producing ducklings from a small box for one of the young girls that were in the show.

Le Grand David and His Spectacular Magic Company was the longest consecutively running stage magic show in the world, it ran for 35 years. The show was the brainchild of Cesareo Pelaez, a Professor of Psychology at Salem University and a life time lover of magic. Pelaez, along with a group of friends, many who were past students, came together to purchase The Cabot St. Cinema Theatre in Beverly MA. in 1976. On Feb 20th, 1977, the first 'LeGrand David' Show debuted at the Cabot. Two hours of live stage magic with a cast that varied over the years to as many as 50+ performers and backstage people. The family-oriented stage magic show ran on most Sundays at the Cabot Street Cinema Theatre from late September to early June from 1977-2012. In the 1980s the company got together to purchase a second theatre in town called the Larcom Theatre and soon began presenting a totally different show of grand illusion and wonder.





Read It
No
Location
Magic Library (Home)
Condition
Mint
Owner
Bryan-Keith Taylor