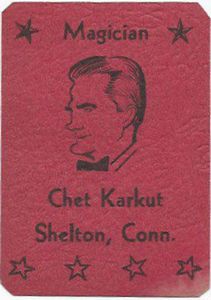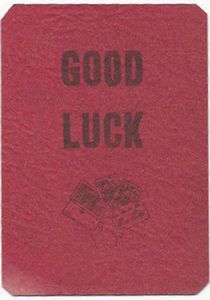 Chet Karkut - Throw Out Card
In Collection


#2062
10*
Magic
Memorbilia, Ephemera 
Throwout Card-Chet Karkut-His Caricature-Good Luck-Red card-ca 1960s-v.FINE.

Card is printed on a white card. Chet had a Chandler printing press in his basement and a large stock of ad cuts for magic. When time permitted, he would go to the press and print up a different card, bookmark or bookplate.

From Magicpedia, courtesy of Genii Magazine:

Chet Karkut (1915-1996), a policeman by trade, was a semi-pro magician and collector. Karkut was a close friend with Al Flosso, Jack Chanin, Walter B. Gibson and Joseph Dunninger. As a collector he specialized in items by Theodore DeLand. He was a guest of honor at the Fifth Magic Collectors' Weekend in 1974. Karkut retired in 1975 as Chief of Detectives in his hometown of Shelton, Connecticut. He was one of the founders and Dean of the Frederick Eugene Powell IBM Ring 59, a long-time member of the Magic Collectors Association, the Magicops, Magicians Alliance of Eastern States and a Charter, Honorary Life Member of the New England Magic Collectors Association.

FRONT: "GOOD LUCK" printed above an image of a hand holding a fan of five cards.

BACK: Caricature of him in center with text above, "Magician". Text below, " Chet Karkut / Shelton, Conn."

DATE: Circa 1960s

SIZE: Card is 2 1/2 by 3 1/2 inches, angled cut corners.

COND: All in otherwise very Fine, almost Mint condition.

Read It
Yes
Location
Magic Library (Home)
Current Value
$45.00
Condition
Near Mint
Owner
Bryan-Keith Taylor