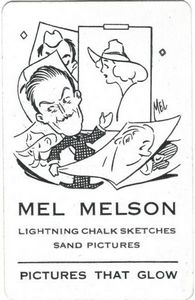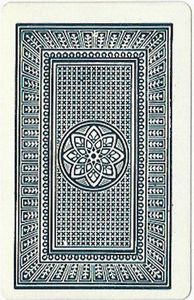 Mel Melson - Throw Out Card
In Collection


#1884
10*
Magic
Memorbilia, Ephemera 
Throw-out Card-Mel Melson, artist for Abbotts-circa 1950s/60s

FRONT IMAGE: Caricture of Mel doing skectches, done by Mel
BACK IMAGE: Blue Aviator Back
DATE: Circa 1950/60ss
SIZE: 2 1/4 by 3 1/2 inches.
COND: MINT Condition.

Read It
No
Location
Magic Library (Home)
Condition
Mint
Owner
Bryan-Keith Taylor
From Magicpedia, courtesy of Genii Magazine: Howard "Mel" Melson (1890-1958) was Abbott's staff artist and ran Tops from 1936 to 1957. He began working for the Abbott Company in 1940 when he left New York to go out to Colon on a six week's assignment to do art work for their catalog. The six weeks turned into eighteen years. His family moved to Buffalo, New York where he attended school, and later the Chown School of Business. An winning a cartoon contest conducted by a breakfast food company, he enrollment in the Buffalo Art Institute and later Cleveland's Landon School of Cartooning. Melson went to work for newspapers and was Art Director for the Magazine of Wall Street. Melson enlisted in the U.S. Army in 1918. First serving at Kelly Field in San Antonio, Texas then touring with the Kelly Field Players as a Chalk Cartoonist and did a sand painting act.