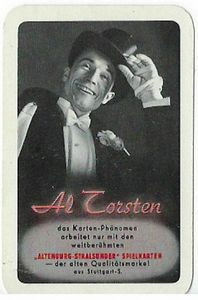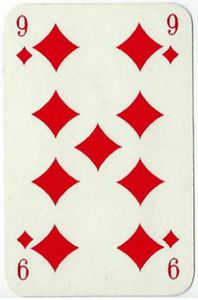 Al Torsten - Throw Out Card
In Collection


#2121
10*
Magic
Memorbilia, Ephemera 
Al Torsten Throw Out Card-His photo in top hat & white tie-Germany

ITEM: This is an Al Torsten Throw Out Card.

FRONT: European style nine of diamonds, with pips in all four corners.

BACK: His smiling face in center, wearing top hat and white tie. Text below has his name, "Al Torsten" and more in German, listing him in Stuttgart/.

DATE: Circa 1940s/50s. Pre 1956.
SIZE: 2 3/8 by 3 5/8 inches, round corners.
COND: All in otherwise very Fine, almost Mint condition.

Read It
No
Location
Magic Library (Home)
Condition
Near Mint
Owner
Bryan-Keith Taylor
From Magicpedia, courtesy of Genii Magazine:
Al Torsten (1917-2004), an IBM Order of Merlin member, had a very successful magic career in post-war Europe.

Torsten was founder of the Koenigsbereg, East Prussia Magic Zirkel Society.

He grew up in Latvia and Lithuania and was fluent in five languages. He served four years as a translator and code-breaker on the Russian front.

After a starting a successful magic career in Europe, Torsten moved to Chicago, Illinois in 1956. He would later work at the Illinois Institute of Technology as a purchasing agent.

Awards and honors
Second place winner of the International Prize for Magic in 1950.