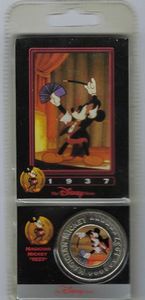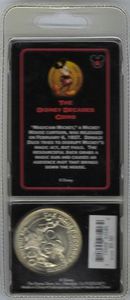 DISNEYLAND MAGIC SHOP -- MT113.035
 (2000)
In Collection


#240
10*
Conjuring
Magic coin / token
Token / Coin 
United States of America 
DISNEYLAND MAGIC SHOP -- MT113.035

LOCATION: USA.
DATE: 2000
OBV: This coin features the 1937 cartoon "MAGICIAN MICKEY".
REV: Mickey in Band conductor uniform holding baton, around is "THE DISNEY DWCADES COINS / THE THIRTIES / 30" OFFSET TO RIGHT.
COMPOSITION: N, with applied vinyl graphic.

From the Collection "Disney Decades Coins", this is the #6 coin, commemorating the cartoon "Magician Mickey", from 1937

Coin is in sealed plastic container, has never been opened.
1.5 inches in diameter.

Read It
No
Location
Magic Library (Home)
Condition
Near Mint
Owner
Bryan-Keith Taylor