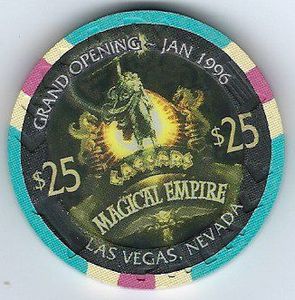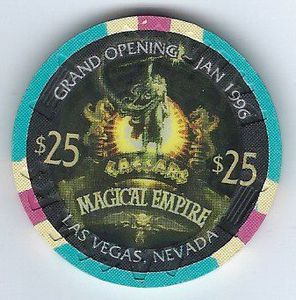 Caesars Hotel -- MT052.103
 (1996)
In Collection


#121
10*
Conjuring
Magic coin / token
Token / Coin 
CAESARS HOTEL -- MT052.103

LOCATION: Las Vegas, NV.
DATE:1996
OBV: "GRAND OPENING – Jan 1996/ LAS VEGAS, NEVADA",
around wizard waving ornate ball ended wand, between 2 griffins on pedestals, standing over "CAESARS" in Roman style letters on banner, over "MAGICAL EMPIRE", over dragon. $25 on left and right.
REV: Same.
COMPOSITION: Casino chip, black background, strike orientation is random green, white & pink edge 39-S

This is from the collection of Randy Forgaard.

The MT,PD,etc. number is from the Magic Token Guide by Paul Courville, the update of the Kuethe Magic Token booklet, now on-line for all to share. If there is no MT,PD, etc. number then this is NOT a presently listed token.

Read It
No
Location
Magic Library (Home)
Condition
Very Fine
Owner
Bryan-Keith Taylor