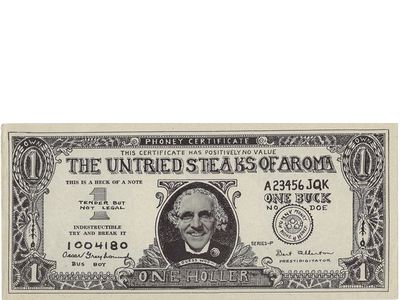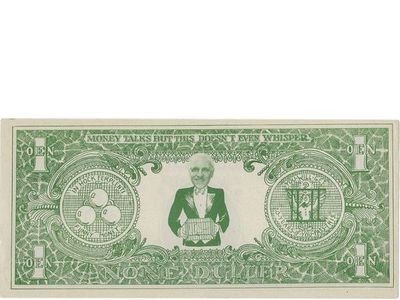 Bert Allerton Advertising Banknote
In Collection


#1938
10*
Magic
Memorbilia, Ephemera 
Bert Allerton Advertising Banknote-ca. 1940s/50s-His photo both sides

This is a large Bert Allerton Advertising Banknote-ca. 1940s/50s. Front has his photo in the the center. Back has his head on a drawn figure of him performing the vanishing birdcage.

DATE: Circa 1940s/50s.
SIZE: 4 1/4 by 9 1/2 inches.
COND: All in very Fine, almost Mint Condition.

Read It
No
Location
Magic Library (Home)
Condition
Very Fine
Owner
Bryan-Keith Taylor
From Magicpedia, courtesy of Genii Magazine:

Bert Allerton (1889-1958), born Albert Allen Gustafson, worked as a successful close-up magician in top nightclubs and hotels across the United States.
After a career as an oil salesman and the death of his wife, Allerton took up magic. He eventually started performing close-up magic in nightclubs. He worked for many years at the Ambassador East Hotel Pump Room in Chicago as well as the House of Murphy in Hollywood and the Hotel Pierre in New York City. He was one of the few magicians at the time to work exclusively in the close-up arena. One of his features was performing the Vanishing Bird Cage close up. Final resting place is at Memorial Park Cemetery, 9900 Gross Point Road, Skokie, IL.