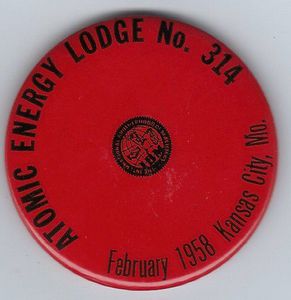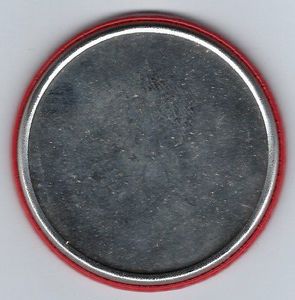 INTERNATIONAL BROTHERHOOD OF MAGICIANS (IBM) - PM39d - Pocket Mirror
 (1958)
In Collection


#1772
10*
Conjuring
Ephemera
Memorbilia, Ephemera 
INTERNATIONAL BROTHERHOOD OF MAGICIANS (IBM) - PM39d

LISTING: None.
LOCATION: USA.
DATE: 1958.
MAKER: Unknown.
RARITY: All variants combined: R8, V200 ($100, 04/2002; $10, 08/2003).
OBV: IBM globe seal (12mm) in center, around is "ATOMIC ENERGY LODGE No.
314/ February 1958 Kansas City, Mo.", black printing.

PM39a: Yellow background,
PM39b: Orange background.
PM39c: Yellow-orange background.
PM39d: Red background.
COMPOSITION: Round, 56mm.
KNOWN SPECIMENS: PM39a: KFK from MCI; BSS from Stephen P. Alpert Mail
Bid Sale #64, Lot #989, April 2002. PM39b: KFK from MCI. PM39c, PM39d:
MCI.
NOTES: Though clearly pertaining to the IBM, we do not know the purpose of this
mirror. Perhaps there was an IBM meeting or banquet at that lodge on that date.

Edition
Edition (Limited to 100 copies)
First Edition
Yes

Read It
No
Location
Magic Library (Home)
Condition
Mint
Owner
Bryan-Keith Taylor