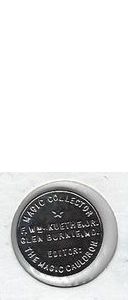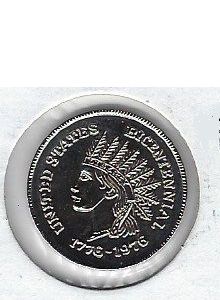 MAGIC CAULDRON,THE -- MT204.000
 (1976)
In Collection


#413
10*
Conjuring
Magic coin / token
Token / Coin 
MAGIC CAULDRON,THE -- MT204.000

LLOCATION: Glen Burnie, Maryland.
DATE:1976
OBV: "MAGIC COLLECTOR/ star F. WM. KUETHE, JR/ GLEN BURNIE, MD. / EDITOR/ THE MAGIC CAULDRON.
REV: Indian head left, around is "UNITED STATES BICENTENNIAL/ 1776-1976". (Patrick Mint)
COMPOSITION: C, R1; NplC, R7; GplC, R8. 20.5-S

Creator of the Magic Cauldron.

Read It
No
Location
Magic Library (Home)
Condition
Very Fine
Owner
Bryan-Keith Taylor