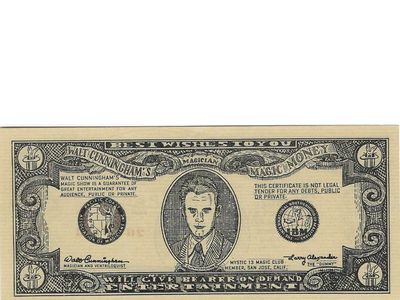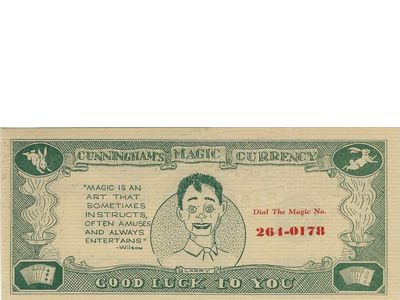 Walt Cunningham Advertising Banknote
In Collection


#2145
10*
Magic
Memorbilia, Ephemera 
Walt Cunningham Advertising Banknote


Instead of business cards, Magician & Ventriloquist Walt Cunningham handed out magic money that he designed himself. He is featured on one side of the bill and his ventriloquist dummy Larry Alexander on the other side. These were printed on a letter press with plates in the 50's and early 60's. Mr. Cunningham and Larry were well known in the bay area in Northern California for their shows since the early 1940's and were also featured a number of times in Ripley's Believe or Not. He was also a member of the Mystic 13 magic club and belonged to the Pacific Coast Association of Magicians. I have a limited number of these Magic Money bills preserved in mint condition. They measure 2.75" x 6.25".

A Ventriloquist's Dummy made by Walt Cunningham of San Jose, California with a paper mache head of believe-it-or-not cartoons, has been used in his act for 30 years.

Read It
No
Location
Magic Library (Home)
Condition
Fair
Owner
Bryan-Keith Taylor