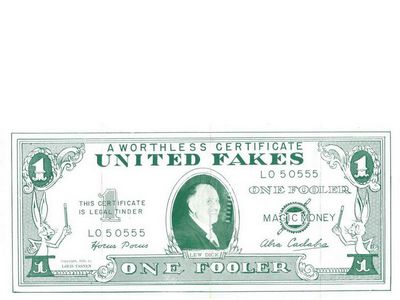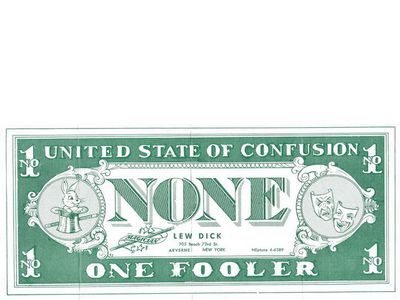 Lew Dick Advertising Banknote
In Collection


#2147
10*
Magic
Memorbilia, Ephemera 
Lew Dick Advertising Banknote-circa 1960s-Tannen imprint-

ITEM: Magician Lew Dick advertising Banknote, circa 1960s, with his photo on the front. This was a Lou Tannen imprint, as small text on lower left has Copyright 1958 by LOUIS TANNEN. Lew Dick was a magician, booking agent, and member of the Parent Assembly No. 1, New York City, of the Society of American Magicians.
DATE: Circa 1960s.
SIZE: 4 1/4 by 9 1/2 inches.
COND: Has been folded so has three vertical creases. In otherwise Very Fine, almost Mint Condition.

Read It
No
Location
Magic Library (Home)
Condition
Very Fine
Owner
Bryan-Keith Taylor