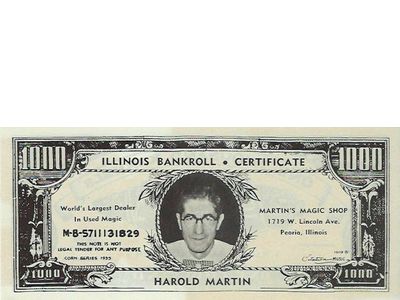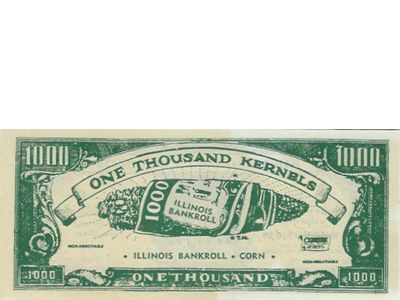 Harold Martin Advertising Banknote
 (1955)
In Collection


#2168
10*
Magic
Memorbilia, Ephemera 
Harold Martin Illinois Bankroll Advertising $1000 bill-ca1955

Harold Martin Illinois Bankroll Advertising $1000 bill.

SMALL RIP ON RIGHT SIDE BORDER.

FRONT: His photo in center with name "HAROLD MARTIN" below. "MARTIN'S MAGIC SHOP" address on the right in Peoria, Illinois.
BACK: Image in center of an ear of corn wrapped in an Illinois Banknote.


DATE: Circa 1955
SIZE: 2 3/4 by 6 3/8 inches.
COND: All in otherwise very Fine, almost Mint condition.

Read It
No
Location
Magic Library (Home)
Condition
Fine
Owner
Bryan-Keith Taylor
From Magicpedia, courtesy of Genii Magazine:
Harold Martin (1902-1989)

Was owner Peoria Illinois' first full-time magic store, Martin's Magic Shop.
He first had a small magic shop in his home and later had a two-story home with large magic shop on the ground floor in Peoria.

Knowledgeable in the art of magic, including sleight of hand and stage size illusions, Martin would time to time lecture and perform before many magic clubs around the country. He attended numerous of magic conventions for over his half century as a magic dealer.

Martin was a lifetime member of the Magic Castle and had donated numerous items to it. He also served as President of the Magic Dealers Association and also in several official capacities with the I.B.M. and S.A.M.

He died, at the age of 87, on Christmas Eve at St. Francis Medical Center where he was taken after a self-inflicted gun-shot wound at his home.


The IBM Ring No. 48, in Peoria was named in his honor, the Harold Martin Ring.