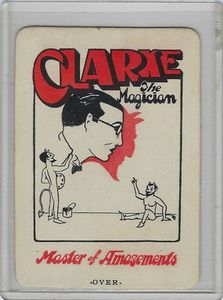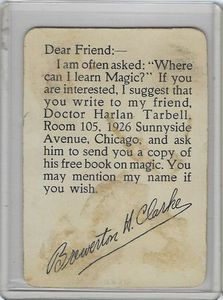 Brewerton H Clarke - Throw Out Card
 (1939)
In Collection


#2021
10*
Magic
Memorbilia, Ephemera 
Brewerton H Clarke Magician Magic (aka Felix Korim) Throw Out Card

Vintage 1930's Advertising Card Brewerton H Clarke Magician Magic aka Felix Korim.

Front of Card show Clarke The Magician with 2 Devils drawing him, Has " Master of Amazements " on bottom of card, back has a offer to write his Friend Doctor Harlen Tarbell Room 105 1926 Sunnyside Avenue Chicago , for a copy of his Free book on Magic. Card was pulled from a scrapbook with Items dated between 1935 and 1939 . Has some dried up glue residue on back of card.

Aprox size 2 1/2 " by 3 1/2 " inches.

Read It
No
Location
Magic Library (Home)
Condition
Very Fine
Owner
Bryan-Keith Taylor
From MagicPedia

Felix Korim
Born Brewerton H. Clarke
April 08, 1905
Illion, New York
Died October 14, 1986 (age 81)

(1905 - 1986) was a singer/actor that turned magician, touring the northeastern United States. He built and invented many his of effects. He performed under the stage name "Sir" Felix Korim.

Biography
Korim married Clara Decker on May 21, 1941, who became his chief assistant.

During World War II, he worked for the Army at the Griffiss Air Force Base camouflage section.

After touring, he got a job as a commercial artist and contributed some illusion designs to Genii magazine, which he illustrated.

Korim founded the Invisible Lodge in 1953, a club for Masonic Magicians. The club followed its own ritual, which encompassed elements from both Masonry and the world of illusion. Members have included Blackstone, Okito, and Jack Gwynne.

Books
Pointers on Good Presentations (1953)
References
Obit Genii 1987 January