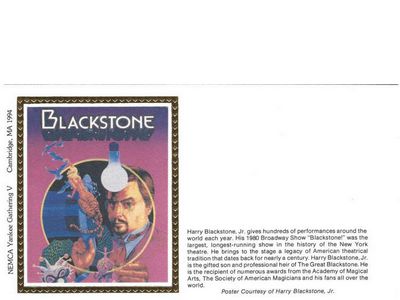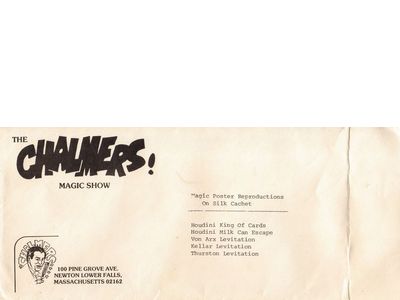 Harry Blackstone - Silk Cachet
Dick Chalmers (1994)
In Collection


#2006
10*
Conjuring
Ephemera, Memorbilia
Memorbilia, Ephemera 
U.S.A. 
Silk Cachet Envelope With Silk Poster - Harry Blackstone, Jr. -MINT-

Silk Cachet Envelope With Silk Poster, enclosed in embossed gold frame, put out in 1994 by Dick Chalmers, Newton Lower Falls, Massachusetts. On left of the envelope is a printed miniature silk poster. To the right is text on the poster and the magician. This poster is of Harry Blackstone.

DATE: 1994
SIZE: Poster is 2 5/8 by 3 3/16 inches, on envelope of 3 5/8 by 6 1/2 inches.
CONDITION: Mint condition.

Mint limited edition, long sold out.

The commemorative envelope was marketed by the New England Magic Collectors Association and Advertising Things and released in conjunction with The Yankee Gatherings IV and V. There were two editions of each envelope released, one with a postage stamp and a rubber event stamp and the un-cancelled version we are offering here. In addition to the description of the magician pictured are beautiful Colorano Silk Cachets of the magicians or their vintage posters. The Cachets are around 2.25x2.88" and the envelopes are around 6.5x3.63" in size. The quality is in mint condition.

Read It
No
Location
Magic Library (Home)
Condition
Mint
Owner
Bryan-Keith Taylor
Blackstone, Jr. Cachet Envelope

From the envelope: Harry Blackstone, Jr. gives hundreds of performances around the world each year. His 1980 Broadway Show "Blackstone!" was the largest, longest-running show in the history of New York theatre. He brings to the stage a legacy of American theatrical tradition that dates back for nearly a century. Harry Blackstone, Jr. is the gifted son of and professional heir of The Great Blackstone. He is the recipient of numerous awards from the Academy of Magical Arts. The Society of American Magicians and his fans all over the world. (Poster courtesy of Harry Blackstone, Jr.). Released on November 5, 1994 at Yankee Gathering V. (Note: some of these envelopes contain a larger image of Blackstone but are missing his name).