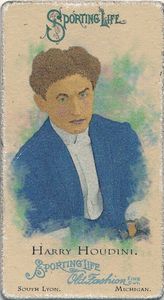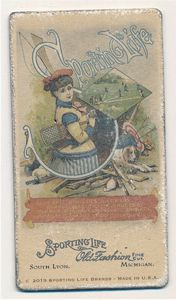 SPORTING LIFE "Old Fashioned Fine Cut" Series- Harry Houdini, Magician Legend!
 (2019)
In Collection


#2306
10*
Magic
Magic Card
Memorbilia, Ephemera 
SPORTING LIFE "Old Fashioned Fine Cut" Series- Harry Houdini, Magician Legend!


-This is a NEW product "Hand-Made and randomly DISTRESSED" to enhance collecting enjoyment by the Owner of the Sporting Life Trade Name. You will find the year produced on the back of the item. -it is NOT a reprint!

Sporting Life "Old Fashioned Fine Cut" SERIES - When available, you may find different player images, different colored backgrounds, And Advertising backs - This may be as challenging to collect as the T-206 set itself! But more limited!

-The Sporting Life "Old Fashioned Fine Cut" Series card set is a Hand made Art card, 2-3/4" x 1-1/2" in size, created in Extremely limited editions with each card being a one-of-a-kind collectible masterpiece. The imagery is a unique culmination of digital and hand rendered and colored art, painstakingly hand assembled and distressed to varying degrees, with the spirit of an artifact from a one hundred year old attic find.

These unique and extremely rare collectibles are made for a very exclusive cross section of the hobby "underground", who have lost some interest in the main stream, overproduced products that have no sense of craftsmanship and wallow in a sea of mediocrity, never to hold their value and relevance in the future. If your lucky enough to own one of these timeless gems, you can relish in knowing that Very few others posses a rendition of this genuine article that defies the conventional.

While This issue has the appearance of An Early 20th Century Baseball Card, it is a new, hand-crafted and randomly distressed Classic, intended to give the collector the look and feel of a Vintage Card. But when the final population reports are tallied, It's rarity will compare to most issues one hundred years it's elder.

This Sporting Life Issue will have Variations, and in some cases, an intentional lack of detail in Printing, Cutting, Proofing, etc., Reminiscent of a period Original issue. This will truly be a fun and challenging issue to collect.

New cards will added weekly. Check ebay user ID "sport_king1" or search Sporting Life. Look for other sporting life subjects as well! -for more info., go to sportentities. com!.

Read It
No
Location
Magic Library (Home)
Condition
Near Mint
Owner
Bryan-Keith Taylor