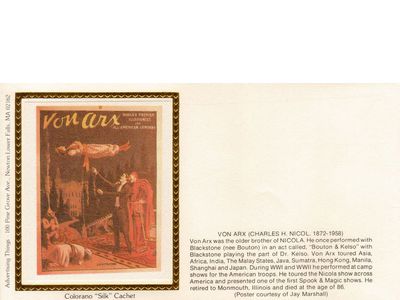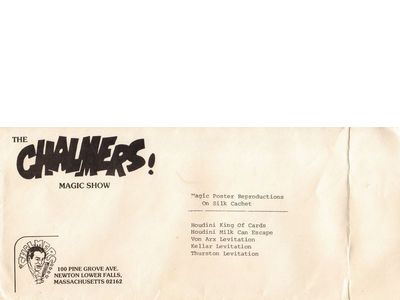 Von Arx - Silk Cachet
Dick Chalmers (1992)
In Collection


#2017
10*
Conjuring
Ephemera, Memorbilia
Memorbilia, Ephemera 
U.S.A. 
Silk Cachet Envelope With Silk Poster - Von Arx. -MINT-

Silk Cachet Envelope With Silk Poster, enclosed in embossed gold frame, put out in 1994 by Dick Chalmers, Newton Lower Falls, Massachusetts. On left of the envelope is a printed miniature silk poster. To the right is text on the poster and the magician. This poster is of Von Arx.

DATE: 1992
SIZE: Poster is 2 5/8 by 3 3/16 inches, on envelope of 3 5/8 by 6 1/2 inches.
CONDITION: Mint condition.

Mint Limited Edition, Long Sold Out

The commemorative envelope was marketed by the New England Magic Collectors Association and Advertising Things and released in conjunction with The Yankee Gatherings IV and V. There were two editions of each envelope released, one with a postage stamp and a rubber event stamp and the un-cancelled version we are offering here. In addition to the description of the magician pictured are beautiful Colorano Silk Cachets of the magicians or their vintage posters. The Cachets are around 2.25x2.88" and the envelopes are around 6.5x3.63" in size. The quality is in mint condition.

Read It
No
Location
Magic Library (Home)
Condition
Mint
Owner
Bryan-Keith Taylor
Von Arx "World's Premier Illusionist" Cachet Envelope

From the envelope: Von Arx (Charles H. Nicol, 1872-1958) Von Arx was the older brother of Nicola. He once performed with Blackstone (nee Bouton) in an act called, "Bouton & Kelso" with Blackstone playing the part of Dr. Kelso. Von Arx toured Asia, Africa, India, The Malay States, Java, Sumatra, Hong Kong, Manila, Shanghai and Japan. During WWI and WWII he performed at camp shows for the American troops. He toured the Nicola show across America and presented one of the first Spook & Magic shows. He retired to Monmouth, Illinois and died at the age of 86. (Poster courtesy of Jay Marshall). Released on November 7, 1992 at Yankee Gathering IV.