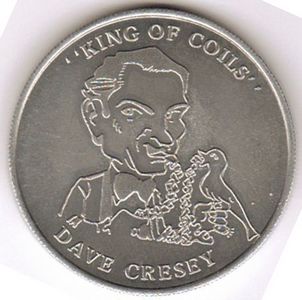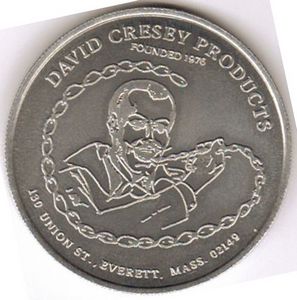 CRESEY, DAVID -- MT085.102
 (1976)
In Collection


#192
10*
Conjuring
Magic coin / token
Token / Coin 
CRESEY, DAVID -- MT085.102

MT085.102 - CRESEY, DAVE
LOCATION: Everett, MA.
DATE:1994
OBV: " "KING OF COILS"/ DAVE CRESEY", around caricature of Cresey and Dove, with coils in mouth
REV: "DAVE CRESEY PRODUCTS/ FOUNDED 1976/ 130 UNION ST., EVERETT, MASS. 02149", around
bust of man with mustache, extracting mouth coils
COMPOSITION: Silver (1994) Medal Struck 39.5,mm, Smooth Edge (One ounce silver
Additional information from Dave Cresey: He made 25 of the silver coins.


The MT,PD,etc. number is from the Magic Token Guide by Paul Courville, the update of the Kuethe Magic Token booklet, now on-line for all to share.

Read It
No
Location
Magic Library (Home)
Condition
Very Fine
Owner
Bryan-Keith Taylor