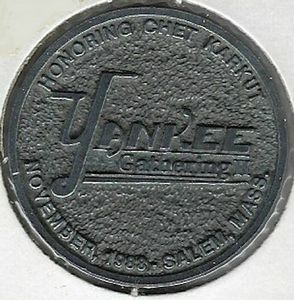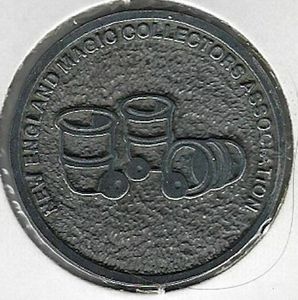 N. E. MAGIC COLL. ASSN. - Magic Token-MT262.102
 (1988)
In Collection


#545
10*
Conjuring
Magic coin / token
Token / Coin 
N. E. MAGIC COLL. ASSN. - Magic Token-MT262.102

MT262.102 - N. E. MAGIC COLL. ASSN.
LOCATION: Salem, MA
DATE:1988
OBV: "NEW ENGLAND MAGIC COLLECTORS ASSOCIATION", around 3 cups and 3 balls
REV: "HONORING CHET KARKUT / NOVEMBER, 1988 - SALEM, MASS.", around "YANKEE Gathering II"
COMPOSITION: Pewter, cast Medal St. 36-S


This token is from the collection of Jerry Fields,being sold for his wife Ann Fields.

http://www.magictoken.org/magic/guide.html

COND: All in otherwise v.FINE, almost MINT condition.

Read It
No
Location
Magic Library (Home)
Condition
Very Fine
Owner
Bryan-Keith Taylor