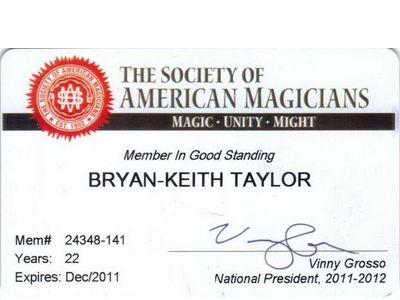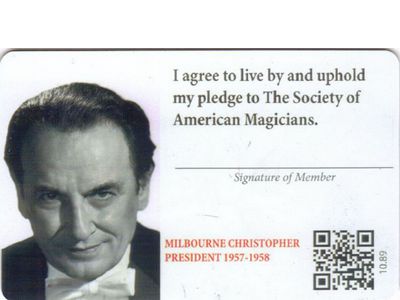 Bryan-Keith Taylor Membership Card For The S.A.M.
In Collection


#2033
10*
Conjuring
Lock Picking
Membership Card 
Bryan-Keith Taylor Membership Card For The S.A.M.

THE SOCIETY OF AMERICAN MAGICIANS

Vinny Grosso
National President 2011-2012
270 Mansion St.
Coxsackie, NY 12051
(518) 641-1767
vg@mwym.com

Dear Compeer:

I am pleased to acknowledge receipt of your S.A.M. dues for the coming year. Attached is your new membership card, also referred to as the Talisman per S.A.M. Ritual. Please sign the back of the card reaffirming your pledge.

This is the second year of our new card design. As promised, each year will feature a different magician of historical significance to the S.A.M. and also a new magic effect designed into the card.

I am proud to present to you Milbourne Christopher as our featured magician. Milbourne has served the S.A.M. in several capacities from National President 1957-1958 to editor of M-U-M, he was also a prominent performer and author. His legacy lives on each year during the banquet at our National Convention when the Milbourne Christopher Foundation presents various awards for achievements in magic. To learn more about Milbourne Christopher, visit the members only section of our website where you can view past issues of M-U-M. There you'll find an in depth article written by past M-U-M editor John Moehring. The article can also be found on the S.A.M. app "MagicSAM" for the iPad/iPhone/ iPod Touch.

If you have an iPhone or just about any smartphone, the magic effect on this years membership card will have an extra feature for you. Please turn this page over to learn how you can use your new membership card to amaze folks!

Thank you so much for your support of the S.A.M. through membership. I sincerely hope that continue find value in being a part of the world's oldest, most prestigious and most innovative magic organization.

Regards,

Vinny Grosso
National President 2011 - 2012

Read It
No
Location
Magic Library (Home)
Condition
Very Good
Owner
Bryan-Keith Taylor
THE EFFECT:

Not just a membership card, a magic effect too!

Integrating a magic effect into the membership card is a new tradition. It will be different every year just like the featured member from our past. This year I wanted to use an effect that incorporated QR codes - those small scannable box shaped bar codes that are becoming more and more popular. I also wanted to make sure the effect could be performed without access to a bar code scanner (which most smart phones have). I called on my friend and S.A.M. columnist, Steve Marshall for some help. Steve had just met with Fumio Inagaki (a.k.a. FUMIO) the inventor of the UPC gag that I am sure you are familiar with. Fumio gave us permission to use the UPC gag in conjunction with the effect that Steve and I came up with below. I hope you enjoy it.

PIZZA SPECIAL

Effect:
The magician says, "Imagine yourself going out to a restaurant, let's say a pizzeria. You sit down at your table and the waiter tells you about today's special, a pizza margarita. The best part of this special is that you can determine the price. I need you to think of a three-digit number with three unique digits. Take that number and reverse the order of the digits creating a new number. Now with these two numbers, find out the difference between the two (subtract the smaller number from the larger). This number is a little low for a pizza margarita so lets take this new number and add it to the reverse of itself. So you have a new number now, what is it?"

Spectator: "1,089"

You: "Yes! $10.89 - that's exactly right! I know you're amazed that I knew that but I had some help. I belong to The Society of American Magicians, see, here's my membership card"

Take out your membership card showing the front of the card.

"And they predicted you would come up with $10.89 as the price of the special. They even printed it on my membership card"

Turn the card over showing the -QR code but with your thumb covering the "10.89"

"See, this is the bar code for $10.89!"

That should get a laugh or at least a grown! Remove your thumb to reveal the "10.89".

"No really, it's $10.89"

As an added bonus, if they, or you, have a QR bar code scanner on your phone, have your spectator scan the bar code!

Note: the force of 10.89 is automatic, if you follow the script it should work every time. Also, their numbers and math do not have to be a secret to you since the prediction is printed. It might even be better to help your spectator with the math just to make sure he or she is doing it correctly.