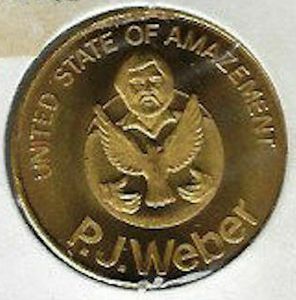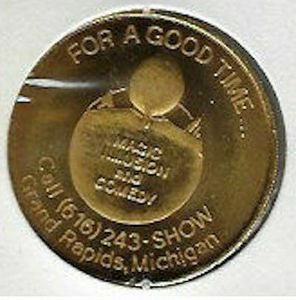 WEBER, P. J. (Paul James) -- MT343.100 - (Brass)
 (1980)
In Collection


#757
10*
Conjuring
Magic coin / token
Token / Coin 
WEBER, P. J. (Paul James) -- MT343.100

LOCATION: Grand Rapids, MI
DATE:1980
OBV: "UNITED STATE OF AMAZEMENT/ P. J. Weber",around, half figure of bearded man, dove flying from hands.
REV: "FOR A GOOD TIME.../ Call (616) 243-SHOW/ Grand Rapids, Michigan", above and below figure of back of man as seen on obv.
COMPOSITION: BR 39-R

This token is from the collection of Jerry Fields.

Read It
No
Location
Magic Library (Home)
Condition
Very Fine
Owner
Bryan-Keith Taylor