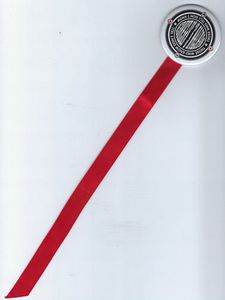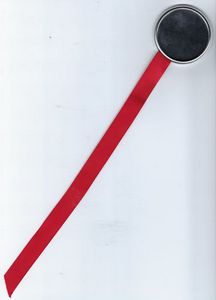 "BURTON S. SPERBER" - PM81a - Pocket Mirror
 (2003)
In Collection


#1781
10*
Conjuring
Ephemera
Memorbilia, Ephemera 
SPERBER, BURTON S> ("BURT") - PM81a

LISTING: None
LOCATION: USA
DATE: 2003
MAKER: BSS [BSS].
RARITY: PM81a: R5, V10, M75.
PM81b: R8, V25, M5
OBV: "BURTON S. SPERBER" in stretchd white letting on black, above is black +, below is black 46, to the left is red +, to the right is red ii, each of the latter 4 symbols inside a small oval, all 4 joined by a single black oval, PM81a: White background and white concentric circles in the design.
PM81b: Red background and red concentric circles in the design.
COMPOSITION: Round, 59mm, red ribbon attached for use as a bookmark.
KNOWN SPECIMENS: PM81a: RJF; BSS. PM81b: BSS.
NOTES: Sperber (1929- ) is a lifelong magician and collector of magic books, catalogs, tokens, automata, mirrors, and periodicals, Publisher and editor of fitraes, of My Friends, 1982. Has published 12 issues and 4 special editions of A Realtiobrade, a series of monographs on magic history and collecting.

Read It
No
Location
Magic Library (Home)
Condition
Mint
Owner
Bryan-Keith Taylor