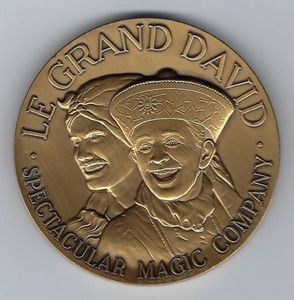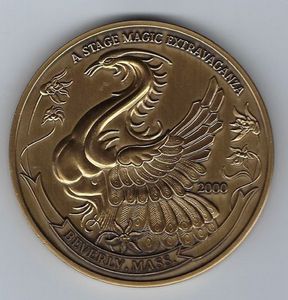 DAVID, LE GRAND - MT099.102
 (2000)
In Collection


#218
10*
Conjuring
Magic coin / token
Token / Coin 
DAVID, LE GRAND - MT099.102

LOCATION: Beverly, MA.
DATE:2000
OBV: "LE GRAND DAVID * / SPECTACULAR MAGIC COMPANY" around busts of David and Marco.
REV: Image of fancy stylized peacock in center, with year to right, "2000", with text on top "A STAGE MAGIC EXTRAVAGNZA
COMPOSITION: BZ. Medal St. 76-S

The 3" brass medal that Ray Goulet said there were only 100 made in brass. There were 6 of them made in silver.

Read It
No
Location
Magic Library (Home)
Condition
Very Fine
Owner
Bryan-Keith Taylor