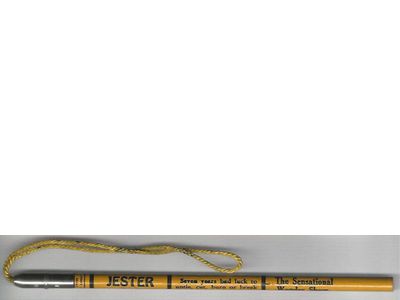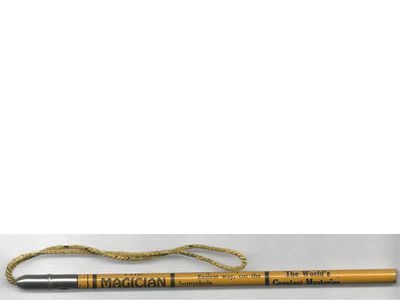 Jester The Magician The Sensational Wonder Show HoleTite Pencil Trick - Advertisement Trick
The Sanders Manufacturing Co.
In Collection


#2140
10*
Conjuring
Trick 
USA 
eng
"JESTER THE MAGICIAN The Sensational Wonder Show."--Holetite Pencil

ITEM: This is a Holetite Pencil, with text "JESTER THE MAGICIAN" in center. Text near tip," The Sensational Wonder Show. The World's Greatest Mysteries.". It has a metal cap and the Holetite patent number in tiny letters by the cap.

From Magicpedia, courtesy of Genii Magazine:

Jimmy Sanders (1894-1971) was a magician, ventriloquist, and owner of The Sanders Manufacturing Co. Sanders was reared on a farm and when only 22 years of age organized what became The Sanders Manufacturing Co., a leading novelty manufacturing. He was in demand as an entertainer in his home city of Nashville and surrounding territory. He served as Vice President of the International Brotherhood of Ventriloquists, Territorial Vice President of Tennessee for the I. B. M., a member of the S. A. M., Cercle Magique of Nashville and the Magicians Club of Nashville. Sanders' items that he was known for were his "Hole-Tite" Pencils, and Color-Changing Pocket Knives.


DATE: Unknown

SIZE: 7 5/8 inches in length, 1/4 inches in diameter.

COND: All in otherwise very Fine, almost Mint condition.

Read It
No
Location
Magic Library (Home)
Condition
Near Mint
Owner
Bryan-Keith Taylor