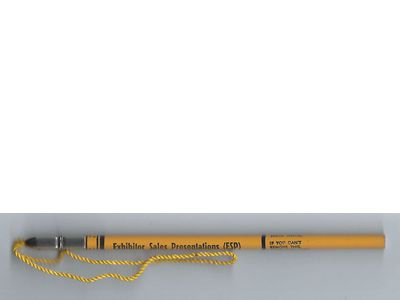 Tommy Tucker Holetite Pencil Trick - Advertisement Trick
Tommy Tucker
In Collection


#2356
10*
Conjuring
Trick 
USA 
eng
Exhibitor Sales Presentation-ESP-Tommy Tucker HoleTite Pencil Trick

Exhibitor Sales Presentation was the name of the trade show company run by Tommy and Liz Tucker of Merrimac, Massachusetts. They did shows of mentalism and magic, and were featured trade show entertainers for years. This is the Hole-Tite Pencil they used as a promotion.

From Magicpedia, courtesy of Genii Magazine:

Tommy Tucker (1916-1991) began his performing career as a manipulative act under the name, "The Boy Wonder" and went on to performed in night clubs, hotels and theaters. He spent the War World Two years in U.S.O. shows overseas and his career spanned more than six decades, covering 28 countries. Tucker developed a two person mentalism act with his wife Elizabeth (known as Betty, Liz and Liza). Their act became very popular, once flying on 97 planes in one month and five in one day to make dates on a dinner club circuit. He invented many effects, some finding their way into Jean Hugard's books and Greater Magic without credit. He created the Six Card Repeat routine at the age of 16.

DATE: Unknown.
SIZE: 7 1/8 inches in length.
CONDITION: In otherwise Very fine, almost Mint condition.

Read It
No
Location
Magic Library (Home)
Condition
Near Mint
Owner
Bryan-Keith Taylor