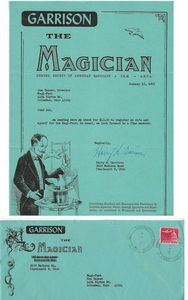 Vintage Letter Head Harry Garrison - & Envelope-Signed-Plus blank 2nd sheet
 (1965)
In Collection


#2416
10*
Conjuring
Ephemera, Memorbilia
Memorbilia, Ephemera 
Harry Garrison Letterhead & Envelope-Signed-1965-Plus blank 2nd sheet

This is Harry Garrison Letterhead on blue paper, dated Jan. 12, 1965, to Don Tanner. It is signed,
"Magically
Harry H. Garrison"


The matching envelope is here as well as a second blank sheet.

Sole proprietor of the Player Piano Shop, enthusiast & restorer of all variety of automated musical instruments, life-time entertainer performing magic acts & smoke-ring blowing, including an appearance on The Tonight Show with Johnny Carson… Garrison passed away, Thursday, September 19, 2013. Age 77 Years.

DATE: 1965
SIZE: 6 1/2 by 11 inches.
COND: All in otherwise very Fine, almost Mint condition.

Read It
No
Location
Magic Library (Home)
Condition
Fine
Owner
Bryan-Keith Taylor