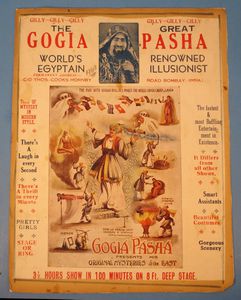 Gogia Pasha window card - 10 by 14 inches
 (1943)
In Collection


#1541
10*
Magic
Magic Poster
Poster 
USA 
eng
Window Card-Gogia Pasha Flyer-His photo-Show scenes-Pencil Date 1943

Here is a Gogia Pasha flyer with his photo on top center, and show scenes drawn in color in center. Text on show all around the edge. Worn and trimmed, but mostly all here. To the left of his photo is date in pencil, "1943".

DATE: Circa 1943, based on penciled date.

SIZE: 10 by 14 inches

COND: Minor use and age marks. Has been trimmed on all sides and pasted down onto card backing. Worn, but all here. All in otherwise very Good condition.

Read It
No
Location
Magic Library (Home)
Condition
Good
Owner
Bryan-Keith Taylor
From Magicpedia, courtesy of Genii Magazine:

Gogia Pasha (1910-1976), originally trained as a physician, assumed an "Egyptian" identity and with his large troupe, mostly family, toured internationally with his show. Gorgia toured Singapore and Australia in 1940 and appeared at many Magic Circle shows and British Ring conventions. "Pasha" is a Turkish title indicating a man of high rank or office.