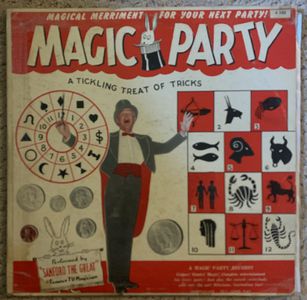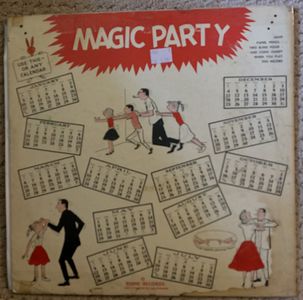 Vintage MAGIC PARTY - Sanford the Great
Keane Records Hollywood 27, CA (1959)
In Collection


#1845
10*
Conjuring
Ephemera
Memorbilia, Ephemera 
Vintage MAGIC PARTY - "The Great Sanford" - 1959 - 33 1/3 rpm

A Magic Party Record!
Games! Stunts! Magic! Complete entertainment for every party! Just play the record-everybody gets into the act! Hilarious, fascinating fun!
Performed by "Sanford The Great"-Famous TV Magician
The record looks black but like magic, when you hold it up to the light, it is Red.

Several party tricks taught with graphics printed on cover to assist.

Front and back of cover shown. One of three records from the same magician. Assumed to be sold separately. See more details above on MAGIC SHOW record.

DATE:
SIZE: Record cover is 12 1/2 by 12 1/2 inches. Record is an LP 33 1/3 rpm
CONDITION: Record appears to be fine. No scratches.

Read It
No
Location
Magic Library (Home)
Condition
Very Fine
Owner
Bryan-Keith Taylor
"Sanford The Great"*

Real Name
Sanford "The Great"

Search
Search for variations of Sanford "The Great"
– Magic Party
Label:
Keane Records – MR-2
Format:
Vinyl, LP, Album, Red
Country:
US
Released:
Genre:
Non-Music, Children's
Style:
Comedy, Special Effects, Speech, Spoken Word
Tracklist
A Magic Party
B Magic Party