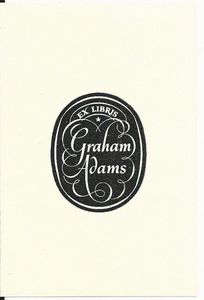 Graham Adams - Bookplate
In Collection


#2441
10*
Conjuring
Magician
Bookplate 
Bookplate-Magician Graham Adams
Black Ink-Not embossed-early 1900s-Mint

Bookplate for British Magician Graham Adams. It is an oval in Black Ink, printed on white paper. It is not embossed. Never used, never pasted in book. Back is blank.

DATE: Unknown. Could be any time from 1920s to early 1970s.
SIZE: Oval is 1 by 1 1/4 inches, printed on rectangular paper measuring 3 by 3 inches.
CONDITION: MINT condition.

Read It
No
Location
Magic Library (Home)
Condition
Mint
Owner
Bryan-Keith Taylor
From Magicpedia, courtesy of Genii Magazine:

Graham Adams (November 15, 1893 - May 21, 1974), born in the Citadel of Carlisle of England, specialized in card magic and hosted the annual "Graham Adams Nights" of magic. During World War I he served in Egypt and the Dardanelles, and in France, where he met Stanley Collins serving in a neighboring unit. His position as a pharmaceutical salesman after the war took him all over his country. In his younger days he was a member of the Minnehaha Amateur Minstrels, which he involved him in singing, comedy and soft-shoe dancing. The first of his 43 annual "Graham Adams Nights" for the Order of the Magi, of which he was an Honorary Member, stared in 1927. Adams gave lectures on Erdnase called "S. W. Erdnase—His Book". His lectures on Erdnase would last nearly two hours, providing explanation of the sleights contained in The Expert at the Card Table, which he considered one of the first three books on Magic. He also did a book called "Mr. Erdnase, His Book" was illustrated by photographs and based on a lecture he gave to The Magic Circle in 1931. Only six copies were produced Among his magazine contributions was a long run in the Conjurer's Chronicle. He also appeared in Peter Warlock's Pentagram magazine.