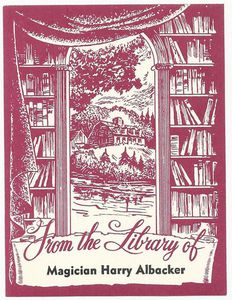 Harry Albacker - Bookplate
In Collection


#2443
10*
Conjuring
Magician
Bookplate 
Bookplate-Magician Harry Albacker
Red and black-Mint

Bookplate-From the Library of Magician Harry Albacker-Red and black-MINT. Never used, never pasted in book. Back is blank.

DATE: Circa Mid 1900s
SIZE: 2 5/8 by 3 7/16 inches
CONDITION: MINT condition.

Read It
No
Location
Magic Library (Home)
Condition
Mint
Owner
Bryan-Keith Taylor
From Magicpedia, courtesy of Genii Magazine:

Harry Albacker (1925-1994) was a touring magician whose long career included extensive work throughout the East Coast of the United States which included 42 appearances at the White House. For years he told everyone he was born on Halloween in 1926, three minutes after Houdini died. He was inducted into the military in 1942 and attached to Army Special Services, entertaining stateside and in the Philippines, Germany and England. For years he traveled more than 10,000 miles a year to entertain in nightclubs and theaters across the country. He played numerous east coast fairs and toured with major east coast carnivals. In the late 1960's and early 1970's, he was on on "Adventure Time" on WTAE TV in Pittsburgh with Paul Shannon. He performed at While House teas and birthday parties during the Roosevelt, Eisenhower, Kennedy, Nixon and Carter administrations. Albacker suffered a heart attack while performing for a senior citizens home, and died the next day. One of his early publicity photos can be seen at the Conjuring Arts' exhibit "The Many Faces of Magic."