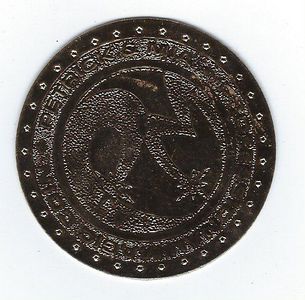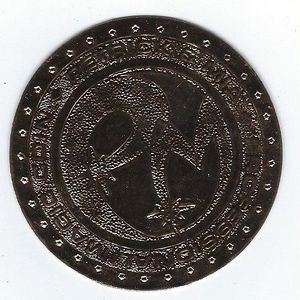 PETRICK & MIA -- MT272.200 - (Silver Colored)
 (1984)
In Collection


#590
10*
Conjuring
Magic coin / token
Token / Coin 
PETRICK & MIA -- MT272.200

LOCATION: Unk
DATE: 1984
OBV: "PETRICK & MIA - PROFESSIONAL MAGIC COIN", around stylized "P M" in center.
REV: Same
COMPOSITION: SiPl, GiltPL Medal St. 55-S

Petrick & Mia from Czechoslovakia. They had a marvelous act. They have vanished from the magic scene.
Here is one of their mahic tokens. It is 2.25 inches by 2,25 inches and very thin.

Read It
Yes
Location
Magic Library (Home)
Condition
Very Fine
Owner
Bryan-Keith Taylor