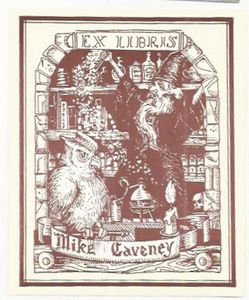 Mike Caveney - Bookplate
In Collection


#2458
10*
Conjuring
Magician
Bookplate 
Bookplate-Magician Mike Caveney Owl & Wizard-circa 2000--v.FINE--

Bookplate for Magician Mike Caveney. Image is of an Owl & Wizard in his laboratory, in brown ink on glossy paper. Top text, "EX LIBRIS". Bottom text, "Mike Caveney".

DATE: Circa 2000
SIZE: 3 1/4 by 4 inches.
COND: Back is still pasted down to black paper from album mount. Rather than soak and peel bookplate from page, former owner carefully cut out the bookplate and left album paper on the back.. All in otherwise very Fine, almost Mint condition.

Read It
No
Location
Magic Library (Home)
Condition
Mint
Owner
Bryan-Keith Taylor
From Magicpedia, courtesy of Genii Magazine:

Mike Caveney (b. 1950), a professional stand-up magician, became a publisher in 1980 and founded Magical Publications. In 1993, he renamed his publishing company Mike Caveney's Magic Words. Caveney lives in Pasadena, California with his wife Tina Lenert whom he married in 1979.

Books

Magicomedy (1981)
Ideas - A Lecture (1983)
The Great Leon: Vaudeville Headliner (1987)
Harry Anderson, Wise Guy (1993)
Carter the Great (1995)
Servais Le Roy: Monarch of Mystery (with William Rauscher - 1999)
Kellar's Wonders (2003)
Classic Correspondence (2010)