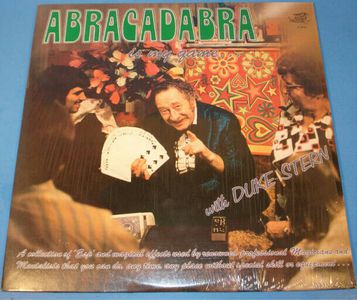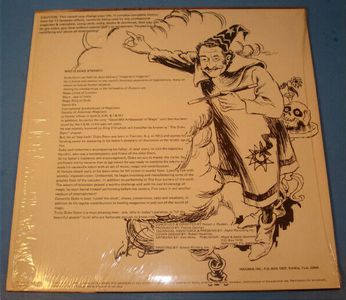 Vintage Duke Stern Record Album-Abracadabra is my Game-with printed insert
 (1972)
In Collection


#1847
10*
Conjuring
Ephemera
Memorbilia, Ephemera 
Vintage Duke Stern Record Album-Abracadabra is my Game-with printed insert

This is a 33 1/3 lp record in the original card cover. This is one of many magic theme albums from this collection of Jerry Fields. If there is an magic theme record that you are seeking, please email me. If it is here in the collection, I will put it on ebay.

CURRENT RECORD: Duke Stern Record Album, Abracadabra is my Game,with color photo on front of Ducke Performing. Back of album cover has bio information on him. This comes with printed insert that is often missing from the album. Duke narrates and teaches eleven magic effects.

Duke Stern – Abracadabra Is My Game
Label:
Incubus Inc. – A-9001
Format:
Vinyl, LP, Album
Country:
US
Released:
1972
Genre:
Non-Music
Style:
Dialogue, Education, Spoken Word
Tracklist
A1 Introduction 0:50
A2 Magician's Choice 3:00
A3 Hidden Coins 2:15
A4 1089 4:05
A5 I Have As Many As You...Plus 2:45
A6 Face To Face 3:15
A7 One Ahead 4:05
B1 Color Separation 4:55
B2 Card Clock 3:05
B3 Pocket Prediction 3:55
B4 Domino Dilemma 3:50
B5 Cheap Sheep Thieves 3:15
B6 Closing 0:30

DATE: 1972
SIZE: Record cover is 12 1/2 by 12 1/2 inches. Record is a stereo LP 33 1/3 rpm
CONDITION: Record appears to be fine. No scratches. Record cover has minor use marks.

Read It
No
Location
Magic Library (Home)
Condition
Very Fine
Owner
Bryan-Keith Taylor
From Magicpedia, courtesy of Genii Magazine:
Duke Stern (1913 - 1973) was a Vaudeville performer and magic store manager.
Stern was the son of magician Samuel Sterns who performed professionally under the name of Carl Mysto.

While Stern was still very young, the family returned to England. Then in 1918 they returned back to the United States, settling in Detroit where Stern grew up. He entered Vaudeville doing a two person magic-comedy act with Bernard Austin.

At the Abbott Magic Company's first Get-Together in 1934, Stern met Percy Abbott and formed what was to be a longstanding friendship. Stern continued his association with the company for many years

At the start of World War II, Stern tried to enlist but could not see the eye chart due to a scarlet fever in childhood which had damaged his eyes permanently. He did go to work in a defense plant, and invented a method whereby the company could increase its daily output from 3,000 to 10,000 grenades per day.

After the war, Duke worked for a large clothing firm and traveled throughout the country and also opened Abbott's first retail store in Indianapolis in 1945.

He returned to Abbott's in 1964 as sales manager and took displays to magic conventions. He then moved to Shreveport, Louisiana and opened "Duke and Eddie's" magic shop. While still in Indiana, he had developed a children's magic show for the early days of television and continued to do this show regularly in Louisiana.

In 1970 he moved to Ft. Lauderdale, Florida to form an association with Paul Diamond at Paul's Magic and Fun Shop. A year later he joined the Harris Magic Company in Atlanta, Georgia, where he was employed until his death.

At the time of his death, Stern was attending the Midwest Jubilee of magic in St. Louis. He was stricken with a cerebral hemorrhage on a Saturday morning and died in the hospital early the next Sunday. Stern was laid to rest in the Lakeside Cemetery in Colon on July 31, 1973. He was survived by his widow, three daughters and a brother.

He was known as master of thimble magic and authored a classic work on the subject.