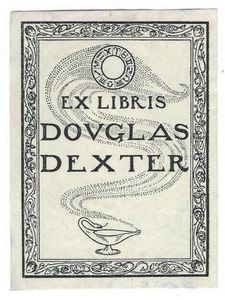 Douglas Dexter - Bookplate
In Collection


#2271
10*
Conjuring
Magician
Bookplate 
Bookplate-British Magician Douglas Dexter-ca 1920/30s-Magic Circle Logo-vFINE----

Bookplate for British Magician Douglas Dexter, circa 1920/30s. The Magic Circle Logo is above text of EX LIBRIS and his name, with a fancy artistic border.

DATE: 1920s/30s
SIZE: 2 1/2 by 3 3/8 inches.
COND: All in otherwise very Fine, almost Mint condition. Please see scanned images to see quality of this fine item.

Read It
No
Location
Magic Library (Home)
Condition
Mint
Owner
Bryan-Keith Taylor
From Magicpedia, courtesy of Genii Magazine:

Douglas Dexter (1878-1937), a schoolmaster by profession, was an accomplished magician and a member of the British Olympic fencing team. One of his specialty was the golf ball and bag effect which baffled many professionals at the time. He produced the "Riddle of the Sands Illusion" at The Magic Circle Grand Seance in 1934. He often performed at Maskelyne's Theatre. He was awarded the Gold Star by the Magic Circle.