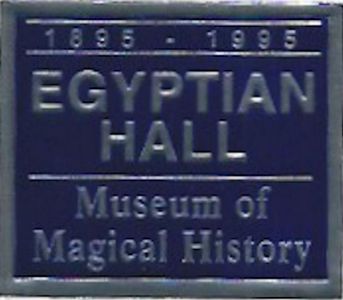 Egyptian Hall Museum of Magical History - Bookplate
 (1995)
In Collection


#2476
10*
Conjuring
Magician
Bookplate 
"Egyptian Hall Museum of Magical History"- Bookplate-"1895-1995

Bookplate with text, "1895-1995 EGYPTIAN HALL Museum of Magical History". Text is embossed from the back in silver color on blue background. Has never been used. This has press apply adhesive on the back, and the cover paper is still attached.

DATE: 1995

SIZE: 1 1/2 by 1 3/4 inches.

COND: All in otherwise very Fine, almost MINT condition.

Read It
No
Location
Magic Library (Home)
Condition
Very Fine
Owner
Bryan-Keith Taylor