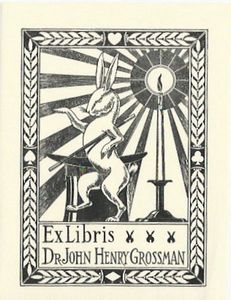 Dr. John Henry Grossman - Bookplate
 (1980)
In Collection


#2286
10*
Conjuring
Magician
Bookplate 
Bookplate-Dr. John Henry Grossman-ca.1980s-Rabbit prances by Top Hat-v.FINE-

Dr. John Henry Grossman-ca1980s Image in center of a rabbit prancing in front of a Top Hat and lit candle. Tex on bottom: "EX LIBRIS / Dr. John Henry Grossman". Back as wet and stick glue, never used.

DATE: Circa 1980s.
SIZE: 3 1/8 by 4 1/8 inches.
COND: In otherwise Very Fine, almost Mint condition. st Mint condition.

Read It
No
Location
Magic Library (Home)
Condition
Mint
Owner
Bryan-Keith Taylor
From Magicpedia, courtesy of Genii Magazine:

Dr. John Henry Grossman (1914-1992) was an M. D., specializing in surgical and medical gynecology, that was a magic historian and collector. He was co-founder Magic Collectors Association in 1949, which in 1971 unanimously voted him their Honorary Lifetime President. He wrote the column Ask the Doctor in M-U-M (which began vol. 47, no. 7, December 1957 and ran for over 20 years) and "Americana" in the Magic Circular. He was elected into the Society of American Magicians Hall of Fame (1977).