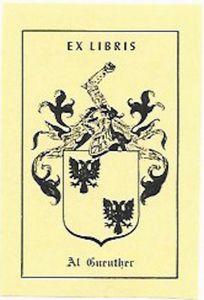 Al Guenther - Bookplate
 (2000)
In Collection


#2491
10*
Conjuring
Magician
Bookplate 
Bookplate-Magician/Magic Collector Al Guenther-Family Crest-ca.2000-v.FINE

Bookplate for Magician and Magic Collector Al Guenther, date unknown, possibly circa 2000. Front has coat of arms, with two double headed eagles on shield, with knight's armor headpiece and arm above the shield. All printed in black ink on light tan paper. Back is blank, has never been used.

DATE: Circa 2000??

SIZE: 1 5/8 by 2 3/8 inches.

COND: All in otherwise very Fine, almost Mint condition.

Read It
No
Location
Magic Library (Home)
Condition
Very Fine
Owner
Bryan-Keith Taylor