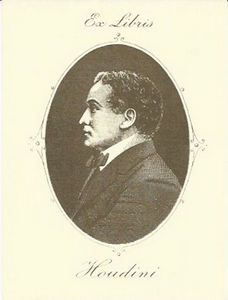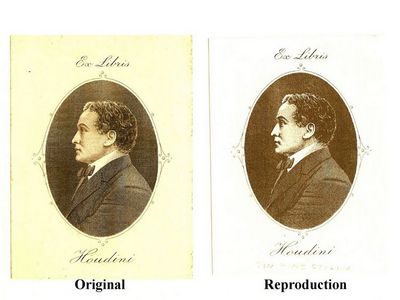 Houdini - Bookplate
In Collection


#2299
10*
Conjuring
Magician
Bookplate 
Book Plate-Houdini-His bust to the left-v.FINE-

Book Plate of Houdini-This came from a collection of bookplates, so I assumed the collector thought that it was an original bookplate. With all the Houdini interest, and the reproductions out there, I did not know. This is printed on laid paper, not wove paper, which may help to authenticate it. If fellow Houdini collectors can look at this, please email me info on the originals and reproductions. There is one of these on sale at $75.00 on line. With the added information below in red, I now consider this a reproduction. Still beautiful and collectible.

FRONT: Bust of Houdini facing to the left. Text: "Ex Libris / Houdini".
BACK: Blank, no glue.
DATE: Late 20th century copy of a 1920s original./
SIZE: 3 by 4 inches.
COND: All in otherwise very Fine, almost Mint condition.

UPDATED INFORMATION: Two fellow collectors have shared info on real versus reproduction bookplates. One mentioned that if you run your hand over the real Houdini bookplate, you will feel the ink on the surface, which would mean that a real one was probably an engraving, not a letter press item. Another who has both real and reproduction said that this is probably a reproduction done by Don Hinz quite a few years ago. I have received more info on the bookplates and added the second image. He sent me images of both the original, on the left, and the reproduction, on the right. The original has clear engraving lines, and with the shading on the face, has an almost three dimensional look. The reproduction has an image that does not possess the clarity of the original.

Read It
No
Location
Magic Library (Home)
Condition
Mint
Owner
Bryan-Keith Taylor