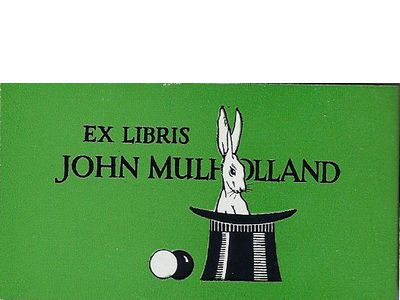 John Mulholland - Bookplate
In Collection


#2302
10*
Conjuring
Magician
Bookplate 
Bookplate - John Mulholland - Rabbit,Top Hat,Billiard Balls-Green Background-MINT-

Magician John Mulholland Bookplate. His logo of a Rabbit, Hat, Billiard Balls on a green background, with his name and Ex Libris.

From Magicpedia, courtesy of Genii Magazine:

John Mulholland (1898 - 1970) was born in Chicago, but moved to New York City when young with his mother. He started performing as a teenager, and went on to become a widely respected authority on magic. Mulholland was taught by John William Sargent. During his career, he performed in forty-two countries, authored ten books on magic, and performed at the White house eight times. His 90-minute stage show was carried in two suitcases. He also served as a consultant on conjuring for the Encyclopedia Britannica and the Merriam-Webster Dictionary. He was, at one time, the only magician listed in "Who's Who in America". He also invented the "Mulholland Box" (a type of Okito coin box). In the 1930s, he took over The Sphinx, the largest magic magazine at it's time, after the death of A. M. Wilson, and continued as the editor for 23 years. Mulholland stopped the Sphinx to become a consultant to the newly created CIA in 1953, although he told subscribers it was due to health reasons.

Career with U.S. Intelligence

Mulholland was recruited by Sidney Gottleib in 1953, for the top secret CIA project known as "MK-ULTRA". His assignments included working with billionaires and inventors, cracking codes and delving into the world of ESP research, experiments with the use of LSD, and writing a manual on deception for use in the Cold War. He also wrote classified manuscripts for the CIA. Two that have since been de-classified are: "Some Operational Applications of the Art of Deception", and "Recognition Signals" in 1954. Mulholland continued to work for the CIA at least until 1958.

Death

Mulholland died in New York City on February 25, 1970 at age 71. At the time of his death, Mulholland had one of the largest collections of magic memorabilia and apparatus (including almost all of Houdini's paper archival estate that had not been given to the Library of Congress) and a library of over 4,000 books. Following his death, illusionist David Copperfield purchased most of Mulholland's archival magic estate and library (including the entire Houdini archival collection and library owned by Mulholland) all of which is now housed in Copperfield's International Museum and Library of the Conjuring Arts in Las Vegas.

DATE: Circa 1930s/40s
SIZE: 1 1/2 by 2 34/ inches.
COND. Mint condition.

Height x Width
3.2 x 2.0  inch

Read It
No
Location
Magic Library (Home)
Purchase Price
$17.50
Purchase Date
12/1/2014
Condition
Mint
Owner
Bryan-Keith Taylor