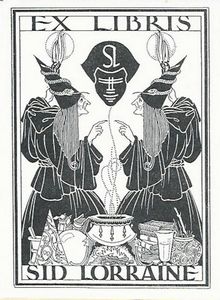 Sid Lorraine - Bookplate
In Collection


#2519
10*
Conjuring
Magician
Bookplate 
Bookplate for notable Canadian Magician Sid Lorraine.

"EX LIBRIS" on top, "SID LORRAINE" on bottom. Image is of two Witches by smoking cauldron, gesturing as smoke rises to a floating head with initials "SL" on it's forehead.

DATE:Circa 1960s/70s ??
SIZE: 3 5/8 by 5 inches.
COND: Some minor spots. Back has glue discoloration where letter stuck to glue on envelope. In otherwise Fine condition.

Read It
No
Location
Magic Library (Home)
Condition
Mint
Owner
Bryan-Keith Taylor
From Magicpedia, courtesy of Genii magazine:

Sid Lorraine (April 24, 1905 - October 15, 1989 ) was born Sidney Richard Johnson in England, but emigrated to Canada. His magic name was inspired by his attraction to the words Alsace-Lorraine (a territory in France). He was a commercial artist and amateur magician. Lorraine was deeply involved with our International Brotherhood of Magicians from its beginnings in 1922 and was named "official artist" in 1925. He was a founding member on I.B.M. Ring 17 of Toronto and a member of the Order of Merlin Excalibur. Lorraine knew Doug Henning when Doug was a teenager and acted as adviser on Spellbound. Lorraine also wrote the prospectus for Henning when applying for his Canada Council grant. During the late 1920s and into the 1930s, he appeared on Canadian radio as "The Magical Chatterbox." Lorraine created many effects including Created Snakes Alive, The Liquor Cards and Thumb Fun. He also invented the Slop Shuffle. Sid was expert in the use of a Troublewit. However not magical it was a joy to watch in his hands. In 1926, he attended the first I.B.M. Convention in Ohio and met Percy Abbott, which brought about him doing a monthly column in the initial issue of Abbott's TOPS magazine. Eventually became the book reviewer for New Tops and also wrote columns for the Linking Ring. Sid drew thousands of illustrations for Abbott catalogs and publications. He illustrated Stewart James' rope encyclopedia.He was considered as a "historical encyclopedia of magic " by John Booth.