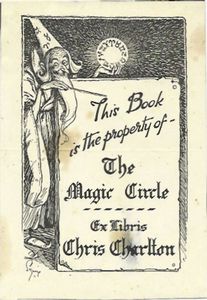 Magic Circle - Bookplate
In Collection


#2521
10*
Conjuring
Magician
Bookplate 
Bookplate-London Magic Circle-from Chris Charlton Collection-ca.1930s-FINE

Bookplate for the Magic Circle in London, used to denote books in their collection from the noted British Magician Chris Charlton, circa 1930s.

FRONT: Image of Wizard with wand in one hand and the London Magic Circle logo on crystal ball in the other. This same image was used by the Magic Circle on the programs and posters for their annual shows. A paper sign, tacked on a board, is to the right with text: "This Book is the property of The Magic Circle Ex Libris Chris Charlton

BACK: Blank. Still pasted to black album paper.

DATE: Circa 1930s/40s ???

SIZE: 3 1/4 by 4 11/16 inches.

COND: This had been mounted in an album. Former owner has carefully cut this out of the album page. Back has black album paper still pasted to back. Has been folded so has center horizontal crease. Some spots on front. All in otherwise Fine condition.

Read It
No
Location
Magic Library (Home)
Condition
Mint
Owner
Bryan-Keith Taylor
From Magicpedia, courtesy of Genii Magazine:

Christopher H. Charlton (1887 - 1963) was a British magician known as the Royal Illusionist was noted for refusing to use live animals in his performances. Listed as "conjuror to H. M. King George the fifth", he could gave his performance in German and in French. He met Prof. Hoffmann, who witnessed his show at Hastings in 1908 and appeared before King George V and Queen Mary in 1917. After touring Australia in 1925, he also toured America when vaudeville was at its height during the early 1930s. Some of his routines he performed were the Magic Kettle (Any Drink Called For, Levitation of a Paper Ball, an artistic Rice Bowls presentation, and the Bathing Belle illusion (which he used his daughter Betty) the girl assistant is placed in a cabinet which is suspended in mid air. At a shot the cabinet falls apart, the girl has vanished. Chris was a close friend with Martin Chapender and Cecil Lyle. His collection of books and periodicals (the most complete at the time) is part of the Magic Circle library. He was a member of SAM, IBM, IMC, Oakland Magic Circle, Magic Circle, Yorkshire Magical Society, S.I.A.P., M. Z., and the Australian Magical Society.