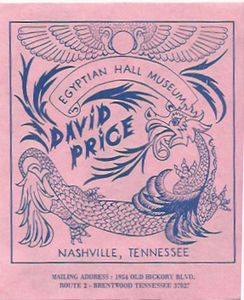 David Price - Bookplate
In Collection


#2323
10*
Conjuring
Magician
Bookplate 
Magician David Price Bookplate

Bookplate Magician/Collector David Price-Egyptian Hall Museum-TN-ca.1960s

Bookplate, on pink paper, for Magician/Collector David Price, and the Egyptian Hall Museum, in Nashville, Tennessee.

FRONT: Text with names around a dragon, with mailing address in outer bottom border.

BACK: Blank back, with paper scraps from prior album mount.

From Magicpedia, courtesy of Genii Magazine:

David Price (1910-1998), born in St. Louis, Missouri, was the owner of the Egyptian Hall Museum and author of Magic: A Pictorial History of Conjurers in the Theater (1985. Price devoted his life to the study of magic and had a close friendship with magicians worldwide. An amateur magician, he wrote many historical articles for Genii and The Linking Ring. Price joined the IBM in 1929 and was a founding member of the Southeastern Magicians Convention in 1931. He performed as "DeLivingston" during the 1930s, until a foot injury during World War II ended his onstage career. In 1953 he purchased the contents of W.W. Durbin's Egyptian Hall in Kenton, Ohio, which Durbin had decorated with photographs of magicians (starting in 1895). That collection became the nucleus of the Egyptian Hall Museum which was moved to Nashville, Tennessee. After David's death, his son, Dave Price III, a circus enthusiast and former magician took over the museum and eventually sold the contents to Mike Caveney and George Daily. Caveney retained the rights to the Egyptian Hall Museum name

DATE: Unknown Circa 1960s/70s ???

SIZE: 2 15/16 by 3 1/2 inches.

COND: Back has black paper scraps from album page. All in otherwise very Fine, almost Mint condition.

Read It
No
Location
Magic Library (Home)
Condition
Very Fine
Owner
Bryan-Keith Taylor