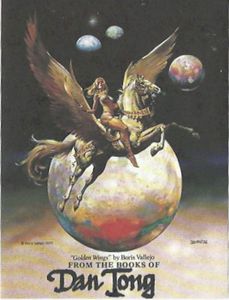 Dan Tong - Bookplate
In Collection


#2337
10*
Conjuring
Autograph, Magician
Bookplate 
Book Plate-Magician Dan Tong-Hand Written Name-Woman on Flying Horse-vFINE-

Book Plate for Magician Boris Zola, with flying cards with his name

BACK: Blank back. No glue. His name can be read backwards on the back.
DATE: Unknown.
SIZE: 3 by 4 inches.
COND: All in otherwise Fine, almost Mint condition.

Read It
No
Location
Magic Library (Home)
Condition
Mint
Owner
Bryan-Keith Taylor
From Magicpedia, courtesy of Genii Magazine:
Danny Tong (b. 1937) contributed in many magazines including Epilogue and New Jinx.

Books

Dan Tong's ESP (1981)
Dan Tong's Close-up Magic (1982)
Dan Tong's Commercial Stand-up Magic (1983)
FRONT: A commercially available book plate with image of a sensuous woman riding a winged horse, with planets in the background. Tong has written his name in black sharpie, "Dan Tong" on the bottom, just below printed text, "FROM THE BOOKS OF". These were sold in sets of 25 or 50 at bookstores. You could buy a box and then, as Tong did, write or have your name printed on the bottom edge.