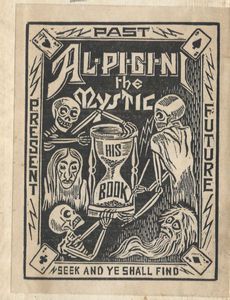 Harry J. Alpigini - Bookplate attached to the book "A Choice Of Miracles"
In Collection


#2546
10*
Conjuring
Magician
Bookplate 
Bookplate-"AL-Pi-gi-ni the Mystic."

Attached to front cover of "Magic From Below" by Charles Waller


From Magicpedia, courtesy of Genii magazine:

Harry J. Alpigini

Died
September 29, 1959
Burlington, New Jersey

Alpigini (?-1959) lived and performed in Philadelphia for many years. In later years he moved to Baltimore and frequented Yogi Magic Mart on 215 N. Charles St., where during the late 1940s where you could find him reminiscing. A tri-fold brochure, which was given as a supplement in The Magic Cauldron #29 states:

As the Wizard of the East, Mr. Alpigini stands unquestionably alone among the leaders in the special line of work. His personality, refined bearing, marvelous dexterity and the ease and grace with which he performs the most amazing feats, all entitle him to the utmost consideration by churches, associations, or individuals seeking the best in the field of entertainment. To those seeking the last word in entertainments, however, Mr. Alpigini offers the acme of perfection in his elite combination, consisting of Artagraphs and Magic. His remarkable versatility enables him to adjust this program to the requirements of every situation and assembly.

Read It
No
Location
Magic Library (Home)
Condition
Mint
Owner
Bryan-Keith Taylor