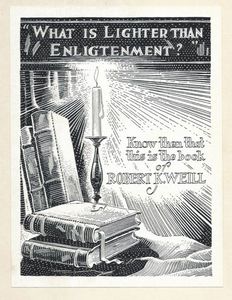 Robert K. Weill - Bookplate attached to the book "Help Yourself"
In Collection


#2370
10*
Conjuring
Magician
Bookplate 
Bookplate-Magician Robert K. Weill-Lighter than Enligtenment?-1940/50s-v.FINE---

Bookplate for Magician Robert K. Weill. Image is of a candle burning on a stack of books. Text on top, "WHAT IS LIGHTER THAN ENLIGTENMENT?" . Last word should have probably been ENLIGHTENMENT, though there may be a joke or wordplay here that I am missing. Text on lower right of candle, "Know then that / this is the book / of / ROBERT K. WEILL".

DATE: Circa 1940s/50s
SIZE: 3 3/8 by 4 3/8 inches.
COND: Back is still pasted down to black paper from album mount. Rather than soak and peel bookplate from page, former owner carefully cut out the bookplate and left album paper on the back.. All in otherwise very Fine, almost Mint condition.

Read It
No
Location
Magic Library (Home)
Condition
Mint
Owner
Bryan-Keith Taylor
From Magicpedia, courtesy of Genii Magazine:

Bob Weill (1912-2000), who managed the radio division of the Weill Advertising Company in Buffalo until forming his own management consulting business, directed the Linking Ring Hocus Pocus Parade along with Eddie Clever and Joe Ovette starting in 1941. Weill also conducted a column in the Linking Ring known as "Bob's This N' That" from 1930 to 1940 which he combined original ideas with his viewpoints on magic and magicians in general. Upon the death of his close friend Caryl Fleming, Weill created "The Fleming Fund" to pay the membership of magicians who belong to the I.B.M. but whose financial situation would not permit them to keep their membership. Along with co-founder Gene Gordon, Weill helped produce the Piff Paff Poof Convention held in Fort Erie, Ontario, so named for a trick Gordon had marketed. When Ted Annemann did his bullet catching effect, it was Bob Weill's father who fired the gun. In 1939, Weill co-wrote and published, with Ralph Hinkson, a spoof issue of The Jinx, known as the "Fake Jinx", which upset Annemann very much. Later, with the P. Howard Lyons, Weill founded and ran the invitation-only Ibidem Events in the Oban Inn at Niagara-on-the-Lake, which later became the Oban Event.

Books

Funny Stuff for Funny Musicians with Frank Lane