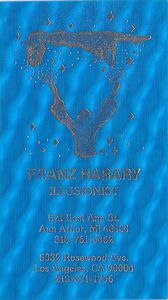 Franz Harary - Business Card
In Collection


#2545
10*
Conjuring
Ephemera, Memorbilia
Memorbilia, Ephemera 
Business Card



Franz Harary
From MagicPedia
Franz Harary
Born 1962
Nationality American
Franz Harary is an American magician and inventor who has appeared on television shows such as the first episode of NBC's The World's Greatest Magic, where Harary vanished the Space Shuttle.
While studying music at Eastern Michigan University and aspiring to be a singer and dancer on Broadway, Harary was designing illusions as a hobby. He began performing publicly after convincing the university's marching band leader to let him appear as part of the halftime show. His commercial breakthrough happened at the age of 21, during his senior year in college, when he initiated a stage illusion for Michael Jackson's 1984 Victory tour. Harary made Jackson levitate and disappear on one side of the stage to reappear with his brothers on the other side.

References
This page incorporated content from Franz Harary,
a page hosted on Wikipedia. Please consult the history of the original page to see a list of its authors. Text is available under the Creative Commons Attribution-ShareAlike License


•http://www.nytimes.com/1998/09/09/arts/smoke-and-mirrors-rock-and-roll-a-master-illusionist-fills-arenas-with-magic.html
•Official website
•Franz Harary
•Smoke and Mirrors, Rock-and-Roll; A Master Illusionist Fills Arenas With Magic
•Franz Haray's Myspace
•Cover - Genii, Vol 72, No. 8, August 2009

Read It
No
Location
Magic Library (Home)
Condition
Mint
Owner
Bryan-Keith Taylor
Best known for his large-scale illusions, which include: the vanish of the Space Shuttle at the Kennedy Space Center for an NBC special in 1994 and moving Hawaii's Diamond Head, Franz Harary is in constant demand worldwide and works with numerous celebrities and musical stars.
Born and raised in Ann Arbor, Michigan, Harary attended Eastern Michigan University on a music scholarship. After convincing the director of the Michigan Marching Band to employ some of his illusions during half time shows, Harary vanished the trumpet section off of the football field and levitated a volunteer. Harary's magic was featured in the 1983 Rose Bowl and 1989 Super Bowl.

Magic and Music

In 1983, after sending a videotape to singer Michael Jackson, Harary designed the illusions for the Jacksons' 1984 "Victory Tour." Since then, Harary has worked with Janet Jackson, Alice Cooper, Bobby Brown, MC Hammer, Tina Turner, Earth, Wind and Fire and more.

Harary often appears on television shows and has starred in his own one-hour television specials in Asia. He has also acted as host of the "Masters of Illusion" television shows on PAX. Harary recently coached teams on television's "America's Best Dance Crew"

Pop Magic

"I think MTV's presence has been one of the most important reason why magic has become such a viable element in rock shows," says Harary on his website. "Magic can satisfy the public's craving to see the same feats of technology and imagination on stage that artists freely use in their music videos."

"The magical arts have lain virtually unchanged for over 30 years." says Harary. "It's time to bring them up to the level of sophistication, popularity and acceptance that film, video and music now enjoy. I believe it's up to me to make that happen."