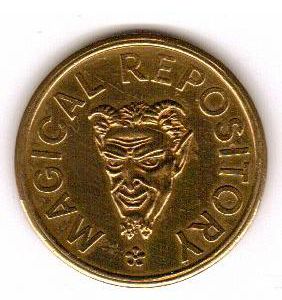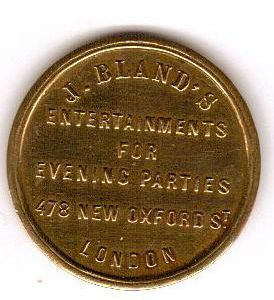 BLAND, J. -- MT035.000
In Collection


#98
10*
Conjuring
Magic coin / token
Token / Coin 
J. Bland - MT035.000

LOCATION: London, England
DATE: Unknown
OBV: Devil's head, around "MAGICAL REPOSITORY".
REV: "J. BLAND"S / ENTERTAINMENTS / FOR / EVENING PARTIES / 478 New OXFORD ST. / LONDON"
COMPOSITION: BZ, R6, V6; GT, R7, V7. 22-S

Information From:
Magicians' Tokens And Related Items
An Illustrated check-list with estimates of values and rarities.
by F. William Kuethe, Jr.
TAMS Journal, Volume 18, Number 5, October 1978, (Part Two)

Read It
Yes
Location
Magic Library (Home)
Condition
Near Mint
Owner
Bryan-Keith Taylor
Joseph Bland was one of the earliest magic dealers in London, in a time when Cremer, Novla, Bell and Hamley where the sole manufactures and dealers of magical apparatus in the British capital. Bland, an Italian whose real name was Giuseppe Bolasco, had started trading in magic in 1855 and opened his shop in 478 New Oxford St. sometimes before 1863. On October 19th 1863, Compars Hermann visited Bland's shop and wrote him a letter congratulating on the quality of his apparatus.

Joseph Bland's shop, inspired H. G. Wells' short story "The Magic Shop" and provided quality material for a number of amateurs and professionals alike in the last half of the XIX century:

One can assume Bland was providing tricks to Angelo Lewis, aka Prof. Hoffmann, as his books contained detailed information about tricks of the time, the same tricks J. Bland was selling in his catalogue.

During 1882-83, New Oxford Street went through a re-numbering, and Bland's shop would be located at n. 35. Bland continued to sell tricks until the end of the century: with his death the shop passed into Hamley's hands: today the old Magical Palace is a shop selling bags.