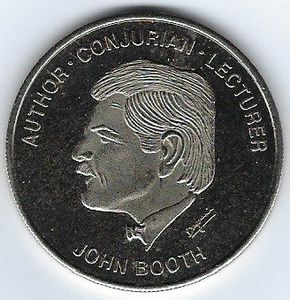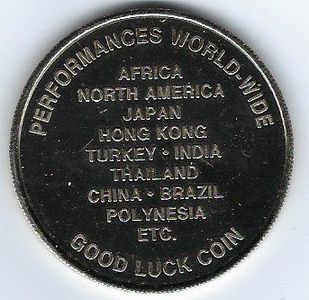 BOOTH, JOHN -- MT037.100
In Collection


#101
10*
Conjuring
Magic coin / token
Token / Coin 
BOOTH, JOHN -- MT037.100

Not in Kuethe
LOCATION: Los Alamitos, CA
DATE: 1994
OBV: "AUTHOR - CONJURIAN - LECTURER / JOHN BOOTH", around bust of Booth facing left. "Darwin" appears in script below bust.
REV: ""PERFORMANCES WORLD-WIDE / AFRICA / NORTH AMERICA / JAPAN / HONG KONG / TURKEY * INDIA / THAILAND / CHINA * BRAZIL / POLYNESIA / ETC. / GOOD LUCK.
COMPOSITION: AnBz (antiqued bronze is a better description; only 100 made according to Ray Goulet), BR (only 600 made according to Ray Goulet), Ns (is not magnetic, so Ns is a better than Ni here; only 300 made according to Ray Goulet. 40-R






Nice detailed coin a little larger than a silver dollar.
On the reverse lists some of his world travels.
Milled edges and in great condition.

Read It
Yes
Location
Magic Library (Home)
Condition
Very Fine
Owner
Bryan-Keith Taylor
John Booth

Born John Nicholls Booth
August 7, 1912
Meadville, Pennsylvania
Died November 11, 2009

John Booth (1912 - 2009) was born John Nicholls Booth and became a successful nightclub magician before leaving magic in 1940 to pursue a career as a Unitarian minister.
A prolific author, he penned hundreds of articles on magic for Linking Ring, Sphinx, Genii and Magicol, as well as publishing Canada's magic magazine, Canadian Magician's Digest in 1929. In 1931, he organized Canada's first magic convention. In 1938 he also worked as "Jancini".

Booth eventually incorporated magic into his lectures and conducted the funeral service for Eugene Laurant. He was a world traveler and had climbed the Himalayas.

Booth was the author of the longest running column in Linking Ring Magazine of magic history called "Memoirs of a Magician's Ghost" which started in May 1963 and didn't conclude until January 2000 (435 monthly installments). The first 25 years of these writings were indexed by Ben Robinson and Amy Janiello and published as a book under the same title "Memoirs of a Magician's Ghost" (1988)

Awards
•1937 Sphinx Award
•1977 Academy of Magical Arts Literary Fellowship.
•1983 SAM Hall of Fame.
•1985 and 1988 H. Adrian Smith Literary Award
•1987 Magic Circle "John Nevil Maskelyne Prize".
•2000 Honorary Life Membership to the IBM

Books
•Super Magical Miracles (1930)
•Forging Ahead in Magic (1939)
•Marvels of Mystery (1941)
•The John Booth Classics (1975) a reprint of the two previous books plus "A Conjurer's Reminiscences"
•Psychic Paradoxes (1984)
•Wonders of Magic (1986)
•Dramatic Magic (1988)
•Creative World of Conjuring (1990)
•Conjurian's Discoveries (1992)
•The Fine Art of Hocus Pocus (1996)
•Keys To Magic's Inner World (1999)
•Extending Magic Beyond Credibility (2001)