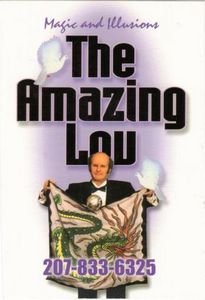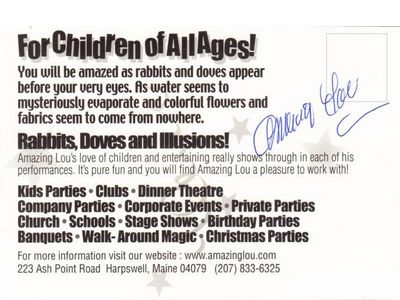 Amazing Lou - Promotional Material
In Collection


#2733
10*
Conjuring
Ephemera
Memorbilia, Ephemera 
USA 
eng
Amazing Lou - Promotional Material

Read It
No
Location
Magic Library (Home)
Condition
Mint
Owner
Bryan-Keith Taylor
The Amazing Lou

Lewis Ward a.k.a. Amazing Lou started into magic after inheriting his father's magic props and supplies. Lou grew up with his grandfather in Harpswell, Maine and learned his grandfathers trade as a Lobsterman. Lou's Father, Virgil Ward, was a furniture maker by trade and a professional magician.

Virgil started into magic when he was in grammar school and continued his love of the art through out his life. Due to his trade and craftsmanship he made many of his own props and designs for the effects he performed. Playing Cards and mentalism was his strongest abilities in the art. Virgil was one of the founding members of The Maine Magicians club which is no longer in existence today. Ralph Greenwood, Lloyd Covens, and many other fine magicians of their day were members of this Club. Virgil's act was approximately 15 minutes in length which was average for his day. He was sought out by many people and delighted them with his performances. Virgil even performed overseas while in the military. He also made ventriloquism dolls and was an accomplished ventriloquist which was part of his act as well. In the late 1990's Virgil past away and his magic props were bequeathed to his son Lewis.

Lewis after rummaging through the many boxes of magic items, started to play with some of his dad's things. It was then that he got "bit by the magic bug". Lou started to read and learn magic that his father had and then started to order props from magic stores. He discovered the joy of making someone guess "How'd you do that?" and didn't stop. He joined a local magic club S.A.M. 174 and became a national member of The Society of American Magicians. Lou's interest then began to lean toward dove magic after seeing General Grant. He studied from many dove manipulators and developed his own dove routine which still is part of his large shows. Over the years Lou has become a highly desired family entertainer entertaining at fairs, festivals, and birthdays with a long list of happy clients. Amazing Lou, as a second generation magician, has kept the Ward family legacy of magic alive.