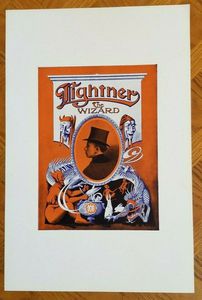 Lightner The Wizard Promotional Flyer (Joe G. Lightner)
In Collection


#2977
10*
Conjuring
Ephemera
Memorbilia, Ephemera 
USA 
eng
Lightner The Wizard Promotional Flyer (Joe G. Lightner)

Somewhere between a flyer and a poster. Measures roughly 12.5" x 19" and is NOT mounted in any fashion. Likely circa teens or twenties.

Beautifully done image for Lightner the wizard (if with an unusually large amount of blank space for the border).

Read It
No
Location
Magic Library (Home)
Condition
Very Good
Owner
Bryan-Keith Taylor
Joe Lightner

Born: Joseph G. Lightner April 1, 1884 Napoleon, Missouri
Died: July 31, 1946 (age 62) Odessa, Missouri

Joe Lightner (1884-1946) performed on the Chautauqua and Redpath circuits as "Lightner, the Wizard" beginning in 1904.

Biography
A member of the I.B.M. and I.M.C. he had retired by 1932 (getting into politics) and was living in Odessa, Mo.[1]

Lightner served at one time as president of the International Magic Circle and edited The Seven Circles in 1934. He was also one of the owners and a member of the board of directors of The Sphinx.[2]

He served ten consecutive terms as mayor of Odessa and was elected senator in 1940.

References
↑ Who's Who in Magic, Sphinx, October, 1932
↑ Obit, Linking Ring, September, 1946