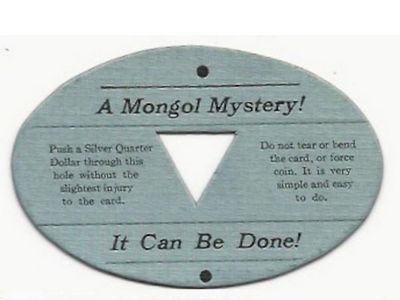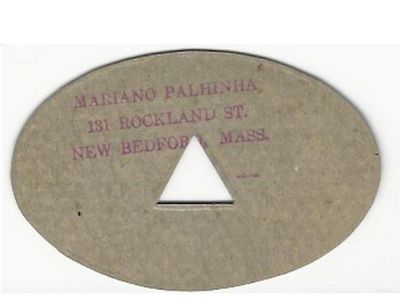 Mariano Palhinha - A Mongol Mystery
In Collection


#2985
10*
Conjuring
Pamphlet 
USA 
eng
A Mongol Mystery-Die cut Magic Card-Push a quarter through a small hole-V.Fine--

A small cardboard oval with a small tri-angular hole in the center. It is called, "A MONGOL MYSTERY ... IT CAN BE DONE!". You have to push a Silver Quarter through the small hole without bending or tearing the card. Back of card has rubber stamped lines:

"MARIANO PALHINHA / 131 ROCKLAND ST. / NEW BEDFORD, MASS."

Palhinha was a magician of Portugese descent. He had multiple articles published in Genii magazine from the 1940s to the 1960s. The puzzle card was probably a sales promotion for the Eberhard Faber pencil company, who made the MONGOL pencils. To do the trick you would put a pencil through the tri-angular hole and push the silver quarter with the other end.

DATE: Circa 1950s/60s
SIZE: Oval is 2 1/16 by 3 1/4 inches.

COND: In otherwise very Fine, almost Mint condition.

Read It
No
Location
Magic Library (Home)
Condition
Mint
Owner
Bryan-Keith Taylor